What things work really well for Denver Seniors? I have a"Top 5 Looks for Senior Pictures" list that can help you decide on a look and location – the first step in every successful senior session.
Top 5 Looks for Senior Pictures
1. NEAR A RIVER OR LAKE
Get yourself down to one of Colorado's rivers or lakes! Water has all kinds of amazing photographic qualities. Depending on the body of water,time of day and lighting water can be reflective or shimmery,  smooth or in motion, subtle or dynamic.  As an added bonus, being near water relaxes most people so if you are a bit nervous in front of the camera this can only help!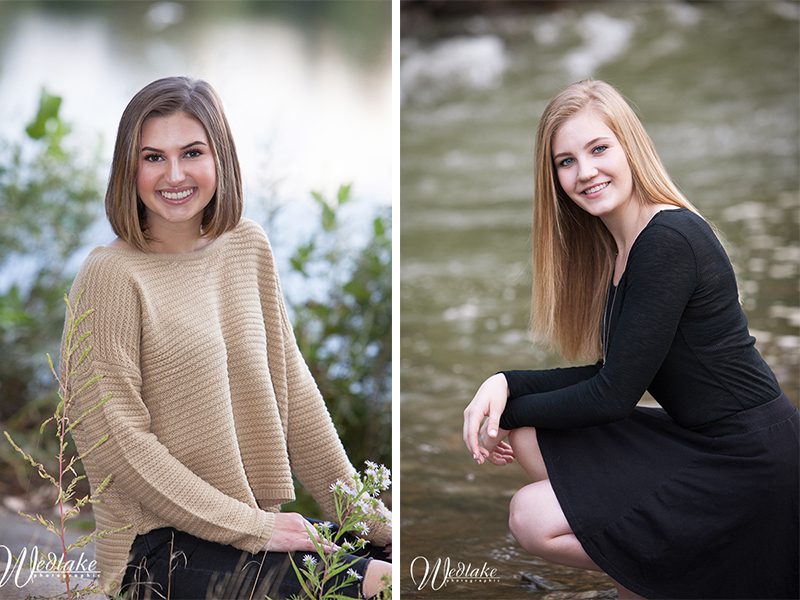 2. IN OPEN FIELDS OF FLOWERS OR TALL GRASSES
Wide open natural fields give an easygoing feel to your portraits. Lots of ways to rock this out!
3. URBAN AREAS
Nature not really your thing? No problem. Heading into the city for your senior portraits is great, too! We practically have a graffiti MUSEUM in Denver's RiNo district that makes for very cool, distinct senior picture backgrounds. I know a little spot in Arvada, too! There are also clean, modern looks to be found near Union Station, the Millennium Bridge and other downtown Denver areas.
4. PROFESSIONAL PORTRAIT STUDIO
Here the look is clean and stylized! The wind isn't going to blow your hair out of place and there is no tromping though fields. At my studio we can customize our backgrounds with the use of colored gels to compliment your outfit or stick to neutrals for a more traditional look!
5. ANYWHERE WITH YOUR FAVORITE THING
I'm not a huge prop person but if there is something you do with passion that helps define you I am ALL for making an artistic senior portrait with it! Bring your sports gear, animals, musical instruments, even your best friend –  these things add interest and literally provide something to hold onto, because we all know being in front of the camera can be intimidating!
Senior Portraits are all about you so when you choose a look and location that speaks to you it adds depth and interest to your images. Deciding on the look of your senior pictures is an important first step. You should also consider clothing choices to compliment your look. Checkout my pinterest board for more inspiration on senior posing, clothing and locations. https://www.pinterest.com/bethwedlake/seniors/