Portrait Photography Locations Denver
"Location, Location, Location", that's the well known real estate mantra and even though for photography it would probably be more like "Lighting, Lighting, Lighting", location definitely plays a part. I encourage my clients to choose a location that has meaning for them. Do you love to hike at Mt Falcon? Could be just right for Senior Pictures. Is your favorite date grabbing a coffee at your local cafe? Sounds perfect for an engagement session that's intimate and low stress. Maybe your child loves your own small neighborhood park? Instead of pulling out all the stops just go where he or she is comfortable and has had lots of fun in the past. Putting your family in a place you love helps you all to relax and will add a layer of meaning to your images. Sometimes that's even your own home!
If you really want a spectacular Colorado backdrop behind you there are certainly many of those to be found on the Front Range. Favorites around the Denver/Boulder foothills include Red Rocks, Chautauqua Park & Lookout Mountain. You could drive farther but unless someplace like Breckenridge is where your family goes to play the views from the foothills should fit the bill.
Perhaps urban is more your thing? 16th Street Mall, Pearl Street Mall, Millenium Bridge, and Coors Field are favorite spots that invoke a vibrant city feel. Denver's bigger city parks also make wonderful locations for senior pictures and family, baby and kids portrait sessions. Think Congress Park, Cheseman Park, Washington Park and City Park. Folks often suggest Denver Botanical Gardens and while they are UBER fabulous they charge a fee for professional portrait sessions of any kind ranging from &100-$800 depending on hours needed and number of people being photographed. Here's a link with more info: Photography at the Gardens .  I've found great flowers in other places around Denver that are FREE and depending on the time of year can be almost as lovely.
If Rustic charm is what you are after there are wonderful old buildings at both Clear Creek History Park in Golden and Belmar Park, Lakewood that make it look like you could be down on the farm.
There are Denver venues that scream "COOL Photography Location" but where access is limited or prohibited. For instance, Lakeside Amusement Park has that great retro neon and classic rides that would make for such a fun photo narrative but security will be on me like white on rice as soon as I whip out even a semi professional camera. There is an expression I've always liked, " It's easier to ask for forgiveness than permission" but if the location you have in mind is a business or commercial venue, asking for forgiveness will probably still get you kicked out.
Now here's a funny thing. Sometimes the right location is someplace you'd never dream would photograph well  – like say, the alley behind my house. It's, well … ugly. Here's a shot I took from my iphone today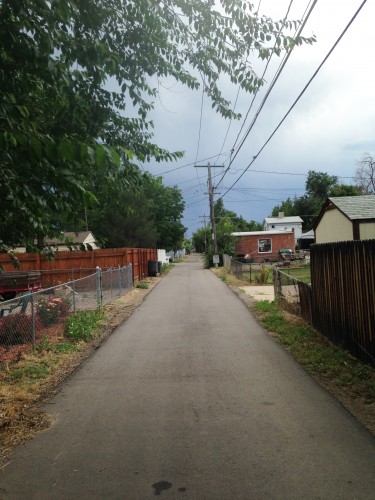 Yeah, Ugly with a capital U. The power lines … the chain link … any normal person would look at it and think, "bad". This past Christmas I photographed a family that really wanted an outdoor session but they had small children and it was a cold, snowy day so they opted for a studio session, instead. After we had photographed several studio looks, mom asked if there was any chance we could just run outside for a few shots. I like to say, "yes" as often as I can so  we headed out back. The green trees were only winter skeletons but a blanket of snow covered some of the Ugly and with the right lens, aperture and lighting choices this turned out to be a nice image – actually, one of their favorites. If I hadn't told you where it was you might just assume it's someplace urban/suburban.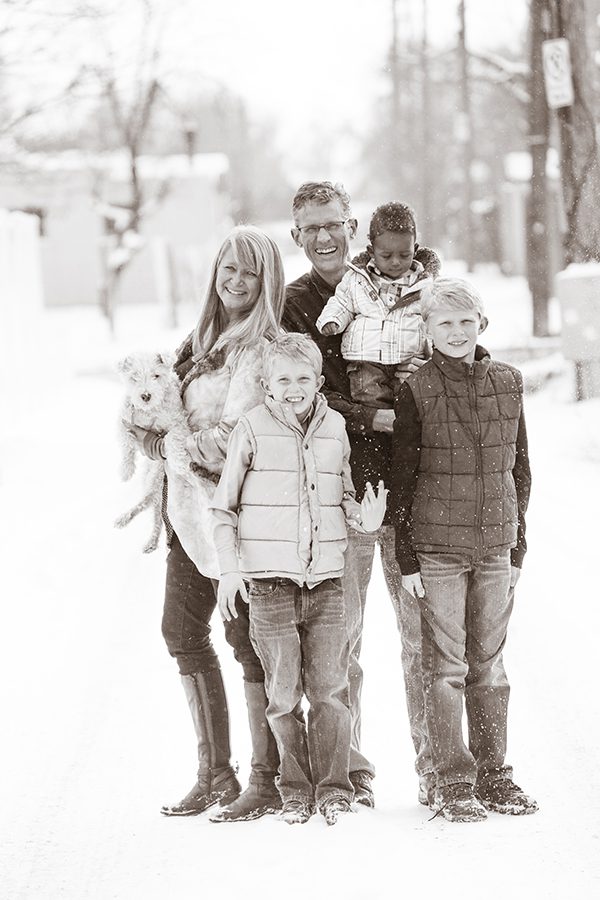 I love working with clients on the perfect location for their family and while it probably won't be my alley, know that in a professional photographers hands most locations turn into a thing of beauty. Choose a place that is "you" and it will be wonderful!